Instantor Exhibits at Ireland's Largest Plumbing Show – PLUMBEX 2023
Date 22nd September 2023 /// Company News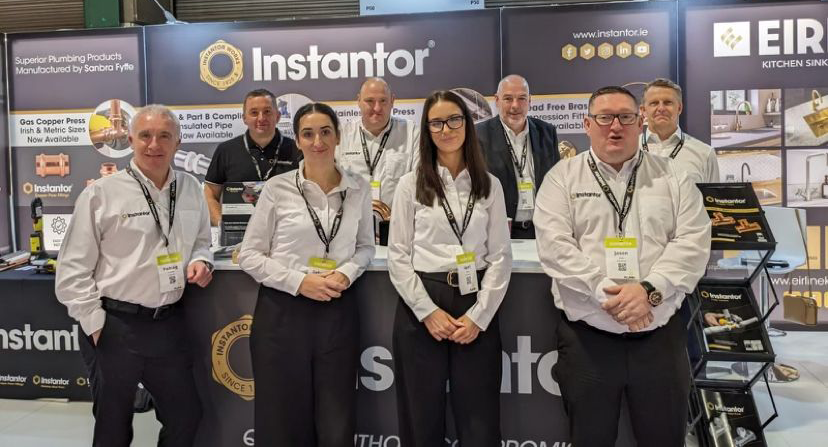 September came around all too quickly, and with it came PLUMBEX Dublin 2023. PLUMBEX is the biggest plumbing and heating trade event of its kind, taking place at different locations throughout Ireland each year.
On 6th and 7th September, PLUMBEX took place at the RDS Simmonscourt in Dublin, Ireland. Being the unmissable event that it is, Instantor were proudly in attendance located next to our sister company, Tucson Pumps.
The annual event is a massive opportunity for us to connect with our valued customers, showcase product innovations, and celebrate the plumbing industry.
A Sneak Peak at the Latest Instantor Innovations
A number of new product developments came to fruition just in time to launch at PLUMBEX, giving installers a first peak at the last innovations from Instantor.
Placing our best foot forward, Instantor focused on exhibiting a small number of ranges, which included; Instantor Copper Press Fittings for water and gas applications, Instantor Press Fittings and BL Rated Pex-Al-Pex Pipe, Instantor Stainless Steel Press Fittings for water and gas applications, Instantor Lead Free Compression Fittings, and Instantor Press Tools.
Amongst our product ranges featured at the show, there were 3 brand new product launches. Instantor launched new press tools last year with great success ever since. To ensure our range continues to meet installers' expectations, from the end of September, Instantor angled jaws will be available to shop from builders merchants. The new angled jaws will complement the existing range of Instantor press gun jaws available for TH, VI & M profile.
Instantor Gas Copper Press fittings will also be available from builders merchants nationwide from the end of October and will be an industry game changer in Ireland. Although there are other manufacturers producing Copper Press Fittings in Ireland, none of them currently offer Copper Press Gas Fittings for use with imperial copper pipe to EN1057. Instantor spotted a gap in the market and saw an opportunity to supply plumbers with a product that there is great demand for.
Instantor Lead Free Compression was also launched at PLUMBEX, and will be available to shop from the end of October. Instantor's Lead Free Compression range will be Ireland's only lead free brass compression fittings available on the market. This new range of brass fittings supports health and wellbeing by eliminating the use of lead. This range falls in line with many changes we are making as an ISO 14001 certified company continuing to take greener steps within our organisation.
A Vibrant Hub for Installers
On September 6th & 7th, Instantor proudly occupied Stand P50 at PLUMBEX 2023. Our stand became a vibrant hub, where attendees witnessed live demonstrations of our cutting-edge tools and press fittings. The kitchen tap speed fitting competition added an extra layer of excitement as installers tested their skills against the clock… and the Instantor girls!
We were delighted to engage with everyone who visited our stand, whether it was to discuss products, our plumbing challenges or simply share a friendly chat.
Just 2 weeks on, we're already counting down the days to PLUMBEX Limerick 2024. Until then, we'd like to thank everyone who visited our stand, engaged in our challenges, or just stopped by for a catch up. Your unrivalled support is what makes Instantor the brand it is today. Until the next show…
SHARE THIS POST